Our class gingerbread man has made his return! We have been reading gingerbread books and we love seeing the gingerbread men your kids have created in our take home gingerbread project! Eleven gingerbread friends have made their way to school and we can't wait to see the rest of them. Here are a few of our favorite stories that we have been reading this week.
We have several others that we have read too!
Sadly, the version that I grew up with is now considered "vintage". Wow! Am I really that old? We read that version too, and I have to say, it's still my favorite!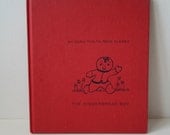 We'll be having fun with some gingerbread activities next week. Keep those gingerbread friends coming in. Our neighbors really enjoy seeing them on display in our hallway. I hope you'll check out a few of these books at the library too. The kids love hearing them again and again!
Happy reading!